Thinking about installing a GSHP? Co-op members building a new home or replacing an old, inefficient heating and cooling system are eligible for a rebate of $750 per ton of unit installed (maximum of 10 tons). Proper sizing of a GSHP is very important. To ensure your system qualifies for a rebate the Member Service Department must approve the sizing proposed by your heating and cooling contractor. The GSHP must be sized with an 80 degree temperature difference (70 to -10) and the unit must have a minimum EER (Energy Efficiency Rating) of 19.1. There must be a minimum of R-38 insulation in the ceiling and R-13 in the walls.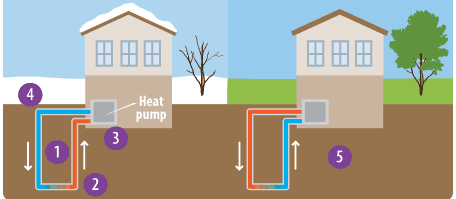 For members who upgrade a current GSHP system with a newer one, there is a rebate of $150 per ton. In order to qualify, there must be a gain of at least 3 in the Energy Efficiency Rating with the minimum EER of the new unit being the same as above.
The installation of the GSHP must be complete and operating before the member receives the rebate check. If you would like more information on ground source heat pumps, send an e-mail to info@threeriverselectric.com.
Click here to view the GSHP Rebate Application
View our other rebates Here.
Federal Tax Credit
Great News! There are federal tax credits available. Please contact your heating and cooling contractor for more information.